xpodx©
(Exposition Data Exchange)
Badge Scanners work for you in 3 easy steps: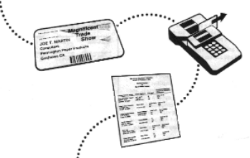 1. The Badge: Each registrant is provided with a name badge that has, among other information, a bar code printed on it. The bar code represents all registration information for each registrant (name, company, address, etc).
2. The Badge Reader: Each exhibiting company has the opportunity to obtain a badge reader - a hand-held computer which reads the bar code on the registrants badge. The badge reader then stores the bar code in its internal memory, thus recording your leads.
3. Lead Reports: When you are ready to get a paper report listing your leads (typically at the end of each day), take your badge reader to the service counter in the registration area. Your leads are then printed on a report and given to you. Data on Disk, via Email and Mailing Labels are also available.